goMoose!
Your one-stop center for Moose info, trivia,
fun, photos, contests, nonsense & more.
mooseliness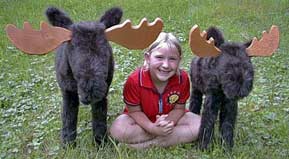 Moose
ARTIODACTYLA
CERVIDAE
ODOCOILEINAE

WHAT does a Moose sound like?
poll results
What do Moose do on Mondays?
Go back to work 167 votes. (5.28 %)
relax after the tourists have gone 788 votes. (24.91 %)
do their nails 271 votes. (8.57 %)
Look for a new swamp 349 votes. (11.03 %)
sharpen their antlers 509 votes. (16.09 %)
Wait for Friday 1080 votes. (34.13 %)
Total votes: 3164
more polls:
A Moose's Life is: 02. June 2004.
Moose Need More: 02. June 2004.
Moose Politics! 11. November 2019.

More Moose stuff
Order your NH Moose License plate here:



www.mooseplate.com
GoMoose age calculator find out your age in days, minutes, and seconds!


Presidential Range Panorama
Four Season Fun!
Moose Alert


United Moose against
fundamentalist terrorist zealots!
since 1999